Faux Leather Design
$144.39
---
Customer Reviews
Michelle L.May 4 2019, 2:14 pm
I have collected hippos since I was about 14. I am now retired. Thius ius just so cute, and out of the norm for my collection. Thanks
Kristina R.Feb 14 2019, 9:29 pm
It was as I expected. I enjoy it. Just the right height for putting my feet up or to sit on at my coffee table. I love it.
id****@aol.comFeb 14 2019, 9:29 pm
i got my hippopotamus for Christmas! Totally adorable! His nose was a little squished..but nothing major. I may buy him a friend!
la****@gmail.comFeb 14 2019, 9:29 pm
I was concerned by some of the reviews that it would be squished, but it was perfect. Yes the box is totally wrapped in tape but the stool is in a box inside the tape and it was perfect. Legs are super simple to assemble. Very happy with my hippo!
Samantha D.Feb 14 2019, 9:29 pm
I didn't know what to make of my hippo when it arrived. It was stuffed in a box too small for it that was completely covered in duct tape. I was worried I was going to cut the material trying to get the box off the stool. But once I got it out it assembled easily and the smushed snout filled out. I'm pleased with the quality of the product itself. Charming and strongly built, able to support my weight as a seat. The legs screwed on easily and I know I'm going to love sharing my office with this little guy.
Aisha H.Feb 14 2019, 9:29 pm
I ordered two hippos and they arrived in a horrible condition. They were stuffed in boxes three sizes too small. The boxes were completely wrapped in duct tape (every single inch) to make sure the box didn't burst. This caused the face of the hippos to be crushed in and now they are heavily wrinkled and wonky in shape. I took a few pictures (see attached) after I tried to pull the faces back into place. The wrinkles won't smooth out and the "snouts" cannot be readjusted.
mi****@gmail.comFeb 14 2019, 9:29 pm
I'm a hippo-phile so naturally I had to have this item. It fits remotes and some other stuff quite nicely. He's got a cute face too. My only suggestion would be that he needs a tail. Hippos cannot fling their dung without one.
bo****@aol.comFeb 14 2019, 9:29 pm
The stool is very nice, but the wrong color was sent. I ordered dark grey and got green. My granddaughter willloveit I'm sure come Christmas
Elisa A.Feb 14 2019, 9:29 pm
The stool is very nice and my niece loves it (as with any hippo looking item). It has a good professional quality and I was happy with how much storage there was for my niece to store her toys. The way it arrived left something to be desired - the box they put it in was a full size too small, so instead of getting a new box they decided to layer it in several layers of packaging tape. I couldn't actually get it out by myself. we also had to use scissors to get it out - mind you that the box and the tape were as tight as a little black dress that's a size too small for the person wearing it, so using scissors was difficult as I had to make sure I wasn't actually cutting the stool. Basically: packaging could be improved, but the product quality is great!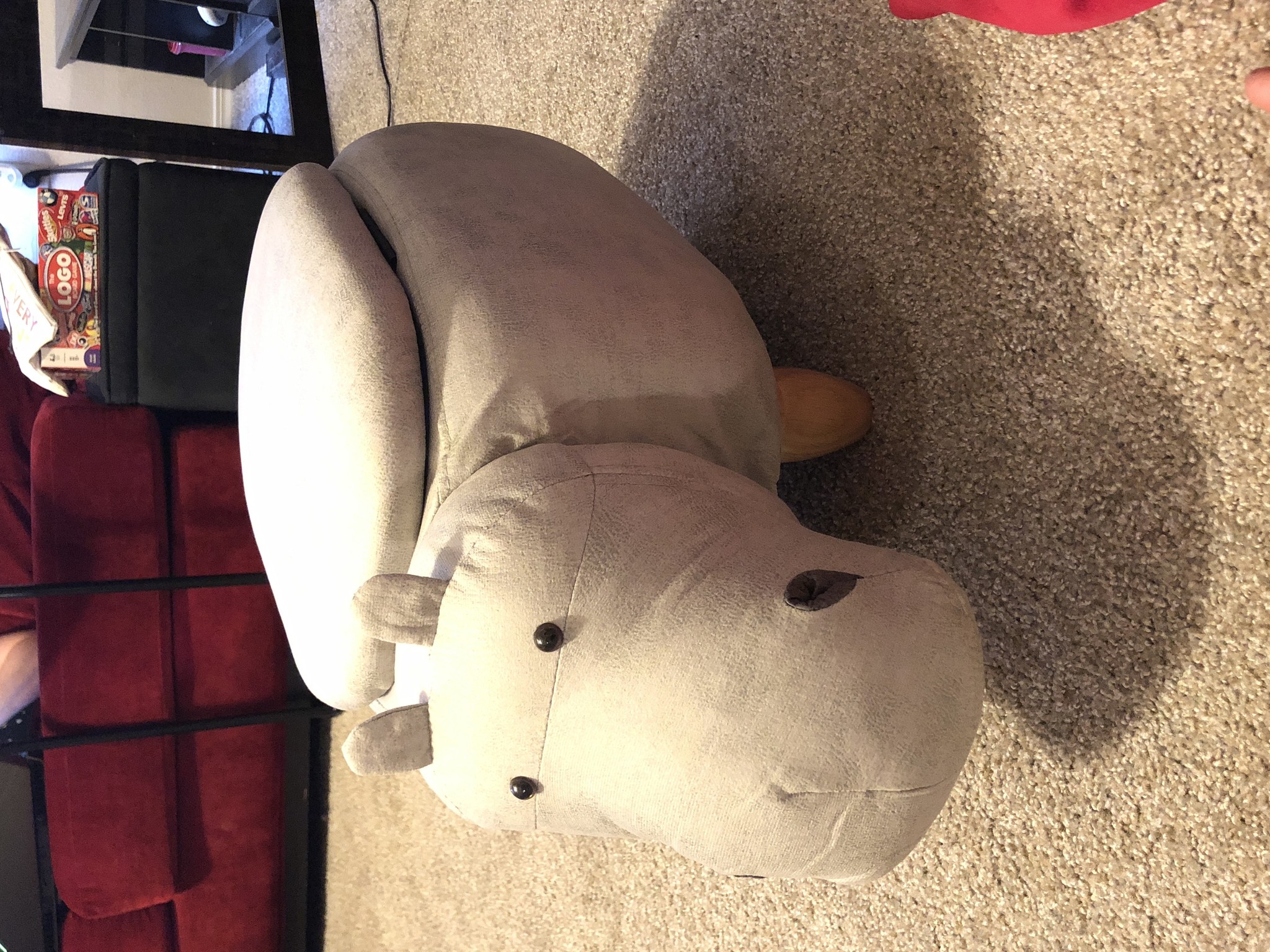 Stephanie T.Feb 14 2019, 9:29 pm
My 1 and 5 year old fight to take turns sitting on it. It also has a surprising amount of storage.
SineadFeb 14 2019, 9:29 pm
Super cute and adorable. Perfect height for resting my feet on or as an extra place to sit when guests are over. The storage compartment is great for holding all my charging cords i usually just have lying around.